Develop Top-Quality Applications
to dominate the Android Play Store
Android App development services offered by Tech Devise will help your business to develop significantly in the digital world. Our services are compatible with diverse devices bringing different users together under a single umbrella.
Tech Devise: Developing User-friendly and Flexible Android Applications
Tech Devise is an emerging digital marketing company that specializes in the field of Android App development. Our firm possesses passionate professionals that hold various accolades in the aspect of mobile application development. The Android Apps developed by our team has helped numerous businesses to reach out to their target audience efficiently. The applications developed are backed with relevant market research and complete industry analysis such that it meets the standard of the concerned sector. Moreover, the technology adopted is of the finest quality making the applications formulated easy-to-use and flexible as per the needs and demands of our customers.
At Tech Devise, we prioritize the independent needs and requirements of our clients such that a modern yet user-friendly application is created that meets the expectation of the target audience. Only the best programming practices are adopted by our expert team, such that favorable results are generated in the long run. After the completion of the initial development stage, assistance is provided to the clients during the testing phase as well. The final application is optimized and delivered to ensure the program runs smoothly and is bug-free throughout. Additional support is provided by our maintenance team that can be availed on a 24*7 basis. Get in touch with our professional team today!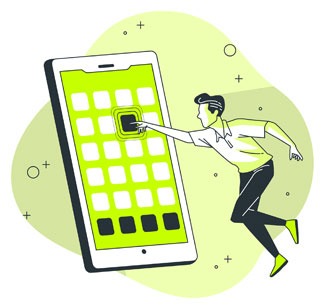 Our Primary Aim is to obtain customer satisfaction and set high standards in the market that will be difficult to rival
The work ethic our company follows is what sets us apart from our direct market competitors. If you wish to take your business to the very pinnacle of your concerned industry then Tech Devise is here to help. Avail of optimum solutions by availing our services.
Android Application Ideation
Android Application Ideation is a critical factor that must be considered in order to reach your desired goal. Our team is prepared to research and brainstorm allowing us to formulate strategies before initiating the coding process. The Ideation process will help you to achieve long term objectives.
Tech Stack and Android Application Architecture
A robust application architecture acts as a framework upon which an app is developed. Our developers come together to analyze and discuss the concept of tech stack and simultaneously also define Network, MVC modules, and UI Layers.
Analyzing Android Solutions
Every application developed is tested under various standards to ensure that they are bug-free. Testing in the form of function, unit, and usability is encouraged on real android devices.
UI/UX Design For Android Development
The market segment of Android is heavily populated. Therefore, the application designed must possess specialized features that help it to stand out among the crowd. Our professionals create rough designs, wireframes, and demo visuals before initiating the development process.
Android App Development
Our team believes in operating within a flexible environment before making the final decision of coding. This helps us to keep the process streamlined and also influences on-time delivery.
Maintenance
After working on client feedback provided after the initial release, Tech Devise also makes sure to offer post-launch support, post-launch testing, and maintenance services. Our team will be there to support you even after the said delivery of the android app.
Powerful Technology Stack We Use to Create Android Solutions That Users Love